Plan Your Visit To Herculaneum
Contents
Nestled in southeast Naples in Italy, Herculaneum is an archaeological site that was once buried by a volcanic eruption of Mount Vesuvius in A.D. 79. This is the same volcano that destroyed the Roman city - Pompeii - one of the most popular tourist attractions in Italy. Herculaneum, although gets fewer eyeballs and is smaller than the latter, is a must-visit when in this neighborhood. In fact, this UNESCO world heritage site is claimed to be one of the best-preserved sites in the world. Find out everything you need to know about Herculaneum opening hours, best times, location and more before visiting the ancient city. 
Getting There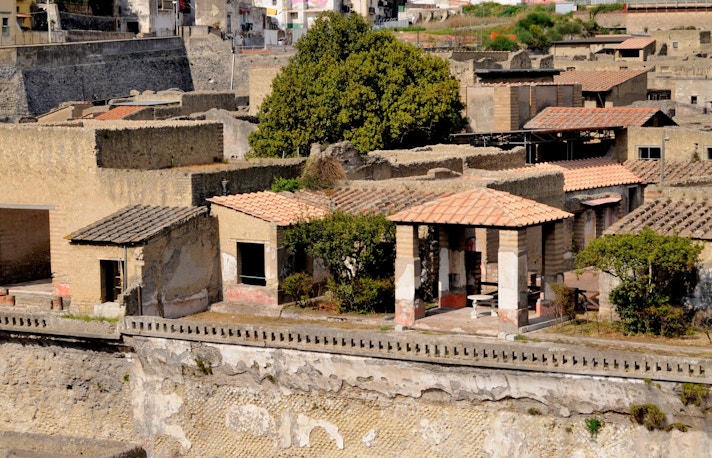 Train
Board the Circumvesuviana train that runs between Naples and Sorrento. The closest train station is Ercolano Scavi, a quick 15 minutes walk away.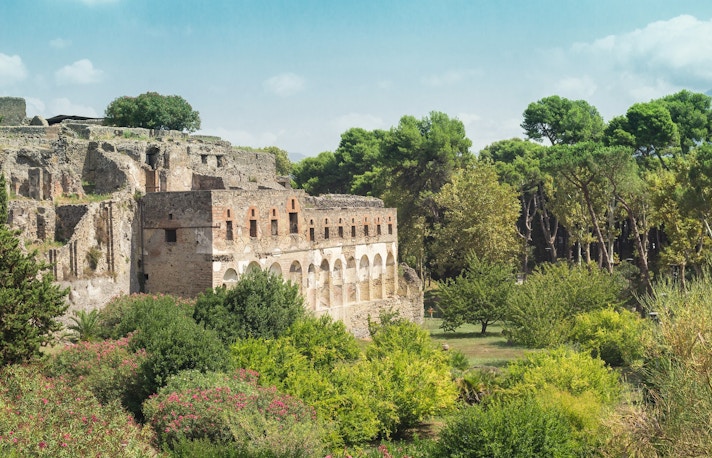 Car
If you choose to drive to Herculaneum, park your car at the underground parking garage and take a stroll around the streets as it's the best way to explore Herculaneum. 

Day Trip to Herculaneum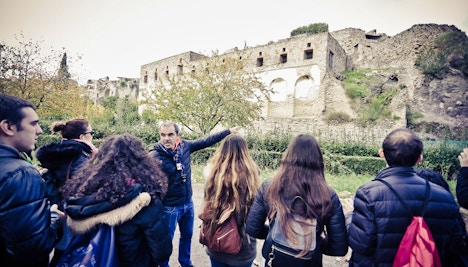 From Rome
If you're in Rome, there are many tours which you can take with a group of other tourists. If you wish to explore the site at your own pace, you can rent a car. It's approximately a 2-hour drive. Or you can board a train from Rome to Naples (1 hour journey costing approximately 100 Euros), and then take a local train from Naples to Ercolano Scavi (20 minutes).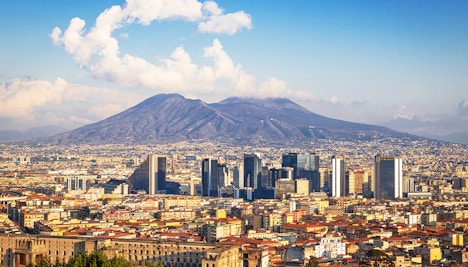 From Naples
The distance between Naples and Herculaneum is just 11 kms and can be covered within a 30 minutes drive. As mentioned earlier, there are a bunch of Circumvesuviana local trains running from Naples to Ercolano Scavi, the nearest station to Herculaneum. The return ticket would cost you approximately 5 euros From the station, the site is just a few minutes walk.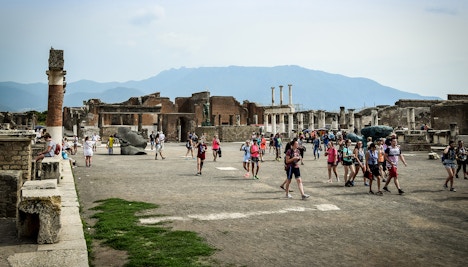 From Pompeii
The best way to travel from Pompeii to Herculaneum is boarding the public train. It's an approximate 40 minutes journey from both the train stations - ie from Pompei Santuario to Ercolano Scavi. Likewise, there are a bunch of bus routes that connect the two directly.
Select Your Herculaneum Tickets
Frequently Asked Questions About Your Herculaneum Ruins Visit
Yes, Herculanum is open for the public.
Where is Herculaneum located?
Herculaneum is located in the commune of Ercolano, Campania in Italy.
What are Herculaneum opening hours?
Herculaneum is open from 9:30 AM to 7:30 PM.
What is the best time to visit Herculaneum?
Early mornings and late evenings are considered to be the best time to visit the site.
How do I get to Herculaneum?
Herculaneum is easily accessible via public transport including trains and buses from Naples.
Can I take a train to Herculaneum?
Yes, the nearest station is Ercolano Scavi from where it's a quick 10 minutes walk.
Can I take a bus to Herculaneum?
Yes, there are public buses that connect from the railway station to the site.
Can I drive to Herculaneum?
Yes you can drive to Herculaneum and there's parking available inside the site.
What parking facilities are available at Herculaneum?
There's an underground parking garage near the entrance of the site. Apart from this, there are a couple of other parking lots as well where you can park your vehicle.
Is Herculaneum wheelchair accessible?
Yes, one can get free access to a wheelchair by displaying the required ID proof.
Can I take a day trip from Naples to Herculaneum?
Yes, the distance between Naples and Herculaneum can be easily covered within 30 minutes.
What's the best way to explore Herculaneum?
If you want to make the most of your visit to Herculaneum, make sure you tag along with certified guides (who are also trained archaeologists) and hence can help you get a deeper understanding of the site and its history. You can also book your tickets to organised tours online from multiple booking websites.
Are strollers and wheelchairs available inside Herculaneum?
Yes, wheelchairs are available at the ticket office of Herculaneum
Are lockers available inside Herculaneum?
Yes, there are lockers and luggage storages inside Herculaneum.